R
ecalled is the first book in Cambria Hebert's  Death Escorts series. It is a new Adult Romance with paranormal, thriller and mystery elements. New Adult means it's for the 'older' end of  YA readers and readers beyond that age. I like to think I'm a new adult 'target': with my nineteen years of age I'm not in the official YA age line : 12 to 18 years. So this idea of new adult suits me just fine 🙂
Recalled is a story about a boy who saves a girl's life by pushing her out of harms way and getting hit by a bus himself. After that he finds himself in an office with a man who offers him a life. A life after death, because he died saving the girl. But when he accepts G.R 's (yes! Grim Reaper!) offer, he'll have to kill Targets – people who have to die. G.R. likes to think of it as working as a Death Escort. He boy gets a new body. Yes, a new body. And they're hanging in his closet like deflated balloons. At least, that is what I like to think of it (or imagine). And I have to give you this quote:
 "I am a lot of things, young lady… Grim Reaper, Death dealer, fate sealer… but I am no liar." – Death Reaper *
I think this shows how awesome this book is. There is suspense, and then the Grim Reaper (!) says something like that. I smiled and even laughed out loud many times while reading this book.  G.R. is a real jolly person in this book, but he still is very dangerous: one touch from his hand and you're death.
Back to the boy who died. He accepts G.R.'s offer and becomes a Death Escort. At least, he get's a shot at becoming a Death Escort : he has to kill his first Target to become a 'real' one. And his first Target is ……. Piper. The girl he saved from dying by giving his own life. The boy's new name is Dex, and Dex thinks he can handle that. But soon it tuns out he can't. And Piper is not your ordinary girl: she has visions.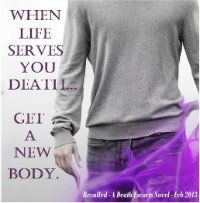 Dex tries to kill Piper multiple times, but always ends up saving her in the end. He can't kill her, he likes her. Maybe even loves her. Because he only has a limited time to finish his first assignment G.R. sends Charming to make sure Dex kills her before time's up. Yes, his name really is Charming. And Charming is a charming Death Escort. Really. 😀
 "That's your name? Charming? You're kidding." – Piper

"That's me. Charming. So good with the ladies they changed my name." – Charming *
Dex has a dilemma. Killing  or being recalled – being sent to a place where there's nothing. No body, only his soul. Trapped forever. What will he do?
I really loved this story. It is believable, a page-turner and surprising. I have to admit, I already sent out recommendations while I had not even finished reading the story. And the cover is very pretty too 🙂 I can't wait for the next book in the series! Check out more info about Cambria en the series here. 5 out of 5 stars.
And I hope to meet Cambria one day. Even her 'about'-info made me laugh 🙂 She sounds like an awesome person. A shame the USA are so far away.
Author. Blogger. Latte Sipper.

Cambria Hebert is the author of the young adult paranormal Heven and Hell series and the upcoming Death Escorts series. She loves a caramel latte, hates math and is afraid of chickens (yes, chickens). She went to college for a bachelor's degree, couldn't pick a major and ended up with a degree in cosmetology. So rest assured her characters will always have good hair. She currently lives in Pennsylvania with her husband and children (both human and furry) where she is plotting her next book.
* quotes belong to Recalled by Cambria Hebert